A New Lease on Life: A Vietnam Vet's Transformation Through HBOT
Dan Campbell
Sergeant USAR, Retired.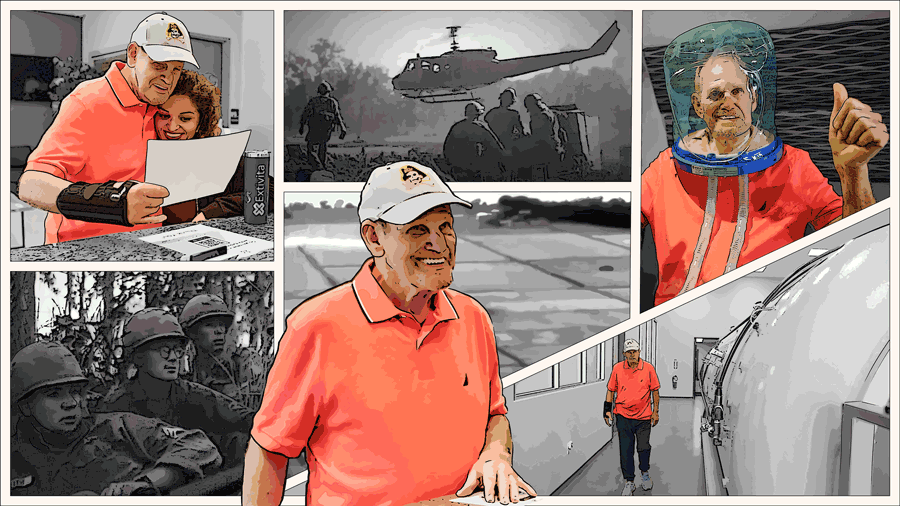 Dan Campbell, a Vietnam War veteran who has struggled with PTSD and other health issues throughout his life, embarked on a life-changing journey with Hyperbaric Oxygen Therapy (HBOT). Dan's narrative offers an intimate look at his suffering and the revolutionary impact HBOT had on both his mental and physical wellbeing.
Clarity of Mind:
After a lifetime of struggling with PTSD, HBOT provided Dan with unprecedented mental clarity. He articulates, "The PTSD for the first time in my life, I have clarity of mind. I can't tell you how great that feels when you didn't have it all your life and all of a sudden your whole mind, everything improves."
Increased Energy Levels:
Dan saw a significant increase in his energy levels after the treatment, as he explains, "My energy level shot way up. I didn't have any energy. […] But my energy level is great."
Relief from Arthritis:
HBOT addressed Dan's severe arthritis in his fingers and other body parts by dealing with inflammation. He joyfully reveals, "The arthritis, I don't have anymore."
Calming of Rage and Emotional Disturbance:
Beyond these physical ailments, HBOT had a profound calming effect on Dan's emotional state. He reflects on the change: "Memories that I've carried with me all my life. Didn't have a calm spirit. I went through rage. […] When I left there, I just seemed to be a new person. I don't have the rage anymore."
Dan Campbell's transformation through HBOT goes beyond his personal healing; his story serves as a beacon of hope for others suffering from similar afflictions. His testimony brings to light the potential of HBOT to heal both the body and the mind. More than a personal success story, Dan's experience serves as a call for the medical community to recognize and utilize this therapy more broadly. As Dan puts it, "Just if there's anybody out there you got something the doctors can't fix, you need to try Oxygen. It changes your life, it changes your mind, it changes your body." His words stand as an affirmation of the transformative potential of HBOT and a call for others to explore this healing option.