A Healing Breath: Sergeant Major's Transformation Through HBOT
Simon Lemay
Sergeant Major USMC, Retired.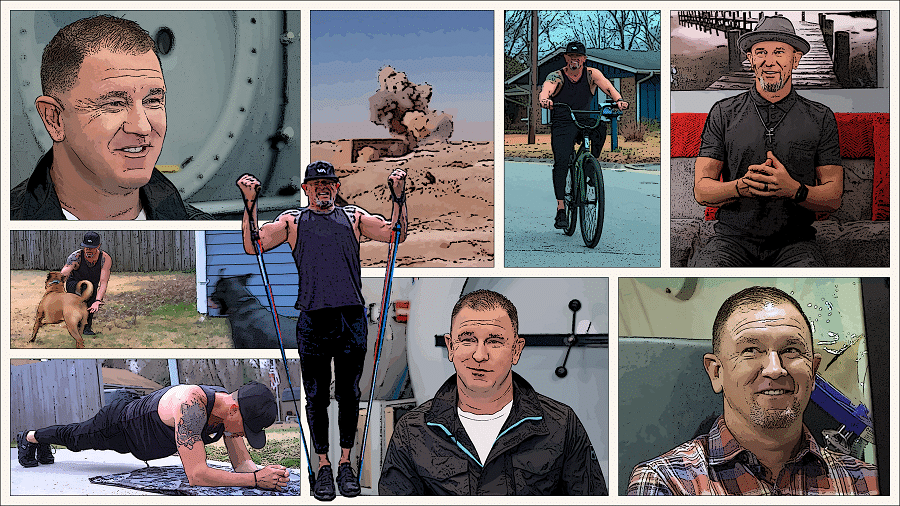 Sergeant Major Simon LeMay served with distinction in the Marine Corps for a commendable 25 years. Amidst the grit and glory of his service, which saw him endure multiple deployments and combat scenarios, LeMay found himself confronting the aftermath of traumatic brain injuries (TBI), symptoms of post-traumatic stress disorder (PTSD), and an overpowering urge to end his life.
Following a harrowing accident involving a Humvee in 2007 and the traumatic loss of a close friend's legs, LeMay grappled with the weight of his traumas, often resorting to medications and alcohol as temporary escapes. But his narrative took a turn for the hopeful when he chanced upon hyperbaric oxygen therapy (HBOT) – a treatment that promised healing and rejuvenation.
Sleep Improvement:
Sergeant Major LeMay faced significant challenges with sleep, a primary symptom of his PTSD. His initial skepticism towards HBOT gave way to surprise when his first session dramatically improved his sleep. LeMay stated, "I went and got into the chamber for the first time on a whim. […] And that night I went back to the hotel room on a Friday night and I slept for 13 hours. The first treatment, 13 hours I slept."
Mental Clarity and Confidence Building:
Beyond the physical ailments, the invisible scars of trauma affected LeMay's mental health and self-esteem. With HBOT, he regained not just clarity but also confidence in himself. He reflected, "I think the biggest thing Hyperbarics did for me was gave me confidence. It gave me the confidence to be able to understand that I don't need the pills, I don't need the alcohol, I don't need to be a jerk to my kids."
Pain and Inflammation Reduction:
Over the years, LeMay dealt with severe physical pain. The inflammation from his injuries made everyday life a struggle. However, HBOT made an immediate impact by significantly reducing this inflammation. As he recalls, "Hyperbarics gets rid of inflammation. I don't care what anybody says. It gets rid of inflammation. So once you get into Hyperbarics and that inflammation in your body starts going down, you go, 'What? This is pretty awesome.'"
Relationship and Family Healing:
One of the greatest casualties of his trauma was his family life. His strained relationship with his wife and the distance from his children weighed heavily on him. However, the healing attributes of HBOT enabled LeMay to mend these relationships, resulting in family reunification. LeMay shared, "So family was probably the most important thing, and I struggled. I left Kate really broken. When I started the treatment, I came back, and my wife was really the one that said, 'Oh, who are you?' After I started the treatment, and that led to the wonderful relationship that we've continued for years."
In Sergeant Major Simon LeMay's profound journey, from the depths of despair to a rejuvenated life, HBOT emerged as a beacon of hope. Beyond healing his physical and mental afflictions, it breathed life into his strained familial ties. LeMay's story stands as a powerful testimony to the efficacy of HBOT, a beacon for countless veterans battling PTSD and TBI, underscoring the potential for healing even in the face of seemingly insurmountable challenges.